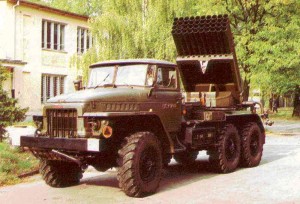 Ural-375D was a soviet 4.5 tonne multitask lorry produced since early sixties of XX century in UralAZ factory based in Miass town – Russia (1961–1983). It was design to replace the old ZIL-157 fleet. Since 1979 it was a basic lorry used in Soviet Army and all armies of eastern block. It was the most common, popular and recognizable army HGV despite all the "local brands". Polish Army had thousands of thousands of them in many different configurations and with many different bodies on.
Ural 375 was liked by all the military drivers because of it's powerful V8 engine and outstanding off-road abilities. It was fitted with standard transfer case for 6 x 6 wheel drive in low ratio for high gradient and slippery conditions and also diff-locks at all axles
Ural-375D have the same vital components such as engine, gearbox, axles, etc. as ZIL-157 and GAZ-66. There is also Ural-375S which is trailer tractor version and Ural-377 which is more like civil flatbed truck with 6x4 wheels. The Soviets also found the trucks an ideal platform for the mobile BM-21 Grad rocket launcher. Other modes for the Ural-375D included troop carrier, supply carrier, etc.
After it's production was ceased Ural-375D was replaced by newer Ural-4320 fitted with more economical, modern and reliable diesel engine.
Engine (ZIL-375YA)
V8 petrol carburetor, pushrod engine
Engine capacity 6,959 ccm
Power 180 hp @ 3100 rpm
Compression ratio 6,5:1
Gearbox 5x2 speeds
Fuel consumption 48/80 liters/100 km (road/city)
Fuel tank 300 + 90 liters
Fuel type A-76
Top speed 76 km/h
Dimentions
Length 7350 mm
Width 2690 mm
Height 2980 mm with tent
Wheel base 4200 + 1400 mm
Ground clearance 400 mm
Turning radius 10 800 mm
Suspension: solid axles, leaf springs, rear wheels at balance-cart.
Brakes: drums, with pneumatic control.
Tires: 14-20", pressure 0.3-2 p.s.i. (controlled).
Weights
Gross weight 8400 kg
Payload 4500 kg
Trailer weight 10 000 kg
Abilities
Fording 1500 mm
Engine (YaMZ-236V6 / YaMZ-238V8)
V6/V8 diesel
Performance: 180/240 hp
Gearbox 5x2 speeds
Top speed 75/85km/h
Weights
Payload 6000–12 000 kg depending on modification
Trailer weight 12 000 kg
Abilities
Fording 1750 mm