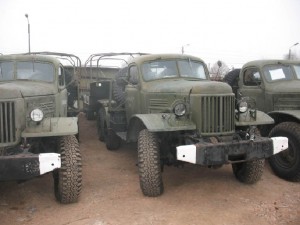 The ZIL 157 is a flat bed 6 x 6 wheel drive military truck. It was produced in the former soviet union in the ZIL works (Zavod imene Lichachov) factory in the name of the Lichachov. It is a direct descendent of the American Studebaker trucks supplied to the Red Army as part of the Lend Lease agreement. The Russians utilised the superior 6 x 6 wheel drive technology to enable the traversing of difficult terrain while carrying large loads.
The vehicle utilises large single tyres on twin rear drive axles, and the manually operated transfer case allows 6 x 6 wheel drive in low ratio for high gradient and slippery conditions. The tyres feature adjustable tyre pressure controls that allow the tyres to overcome flats and also to be adjusted to low pressure for soft terrain.
ZIL-157 was in production from 1958 to 1961; the improved K model from 1961 to 1964, various other improved models later taking its place. The last variant, the ZIL-157KD, was in production from 1976 to 1982. Most of these were export models (the USSR having changed over to the ZIL-131 in the meantime.) A production run of 14 years. The vehicle is still widely used around the world in both military and civilian guise.
The 157 K is equipped with a front mounted self recovery winch connected to the transfer case of the engine. The vehicle weighed in at about 6 metric tonnes and was capable of hauling a 3 tonne load at 60 kilometres/hour on asphalt road. The vehicle crews 2 occupants at the front and 16 troops could be carried on fold down bench seats in the cargo flat bed.
As well as the basic cargo truck it also served as a basis for tankers, the tractor for the SA-2 missile and some special purpose vehicles. It was also produced in China as the Jiefang CA-30 with minor modifications to the cab but the rear cargo tray remained basically the same.
Engine (ZIL-157)
Straight 6 cylinder gasoline
Displacement 5,555 liters
Perfomance 109 hp @ 2800 rpm
Compression ratio 6,2:1
Torque 220 lb/ft @ 1100–1400 rpm
Fuel tank 150+65 liters
Fuel consumption 42 liters/100 km
Gearbox 5 +1 speeds
Top speed 65 km/h
Dimensions
Lenght 6922 mm
Width 2315 mm
Height 2360 mm
Wheelbase 4225 mm
Ground clearance 310 mm
Turning radius 12 000 mm
Weights
Curb weight 5800 kg
Max payload 4500 kg (2500 kg on unpaved roads)
Max trailer weight 3600 kg
Gross weight 10 525 kg